Ky's Endorsement
By Lana Payne Campaign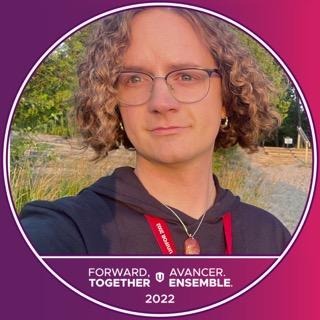 I first got to know Lana when she was the Atlantic Director through my position as the Newfoundland & Labrador Representative for Atlantic Regional Council's LGBTQ Standing Committee. Within just a few minutes, I knew I was in the presence of a rare and special person. Lana radiates hope, wisdom, and a gravitas when she speaks that is unmistakable.
When you're with her in a meeting, you see the razor focus, the brains, and the full attention she dedicates to her work. When you're with her on a picket line, you see the steel resolve and fresh tactics that make employers nervous yet workers around her so confident. And still in those quiet moments when you get her alone, you feel the warmth, humility, and a real genuineness.
Throughout my years, I worked closely with Lana, and let me say that Lana is so much more than a mere ally and friend to all equity groups: she's a mentor. She always wants to build you up. Lana's platform pushes forward with Unifor's founding vision of a modern social union, and I know that she views the Standing Equity Committees not only as vital sentinels of our union's diversity but as the cradles of future leaders.
I know that Lana saw something in me that I'm not sure I saw in myself then, and she mentored me, believed in me, making me into the labour unionist and fighter that I am today. Because of Lana, the changes I have effected in my workplace and the company were made possible—Lana ripples out, into waves of change, because she empowers everyone around her.
This is one of Lana's greatest strengths: she knows that the class struggle and unions are built from the bottom up, not top down. She knows that the roots, the rank and file, of our union are what keep it alive and that the sisters, brothers and comrades in leadership are only as strong as the membership that gives them their power to fight the good fight.
The Forward Together team's vision is to deepen the accountability and integrity of our leadership that is tied to its members, and amplify the voice of the rank and file. Lana's actions as Secretary-Treasurer, the careful eye on financial controls at a critical time for our union during COVID, and her principled defence of our Constitution show that she is the leader needed to prepare our union for the many challenges ahead.
We are at a crucial turning point both in Unifor and the struggle of the working class as a whole. The way #ForwardTogether through it is with Lana Payne as our next President!
Ky Rees (they/them) BSoc, BSW, Chairperson, Unifor L2002 LGBTQ Equity Committee, District 501 Health, Safety & Environment Rep, Atlantic Regional Council's LGBTQ Representative for Newfoundland & Labrador.