Reclaiming and Fulfilling the Unifor Dream
By Lana Payne Campaign
By Peter Kennedy, Gaétan Ménard, Fred Wilson, and Jim Stanford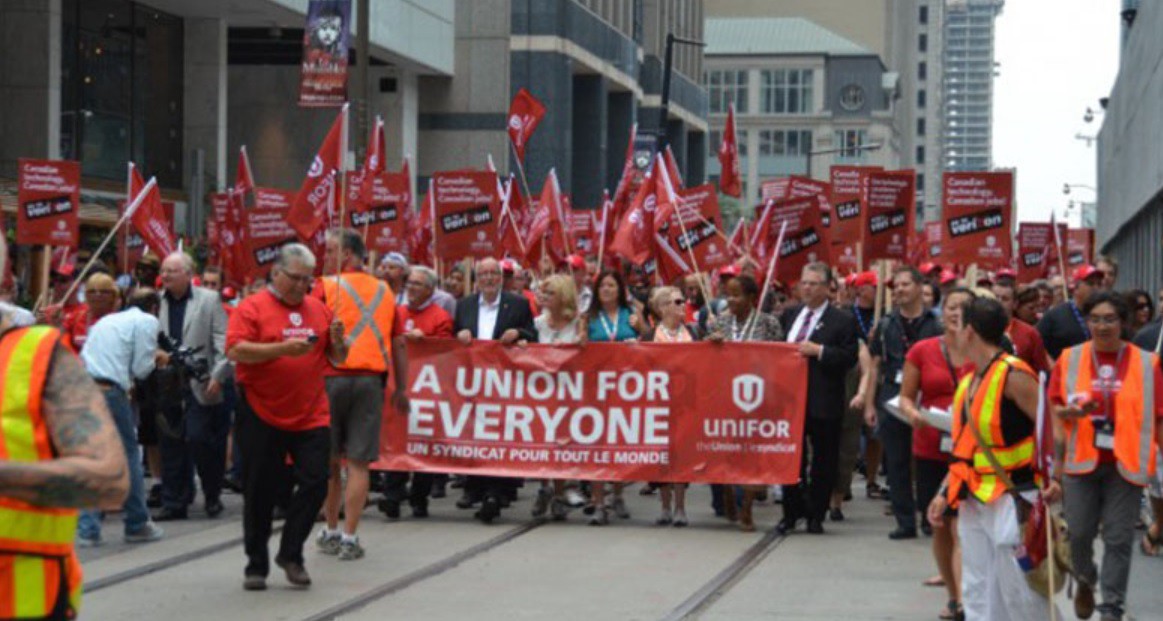 Dear Brothers, Sisters, and Friends;
We were honoured to play a central role in what was initially called the 'New Union Project.' That project began in 2011, with a mandate to consider the need for, and crucial features of, a new powerful trade union to represent Canadian workers. Peter and Gaétan were the Secretary-Treasurers of the two founding unions (the former CAW and former CEP), and co-chaired the New Union Proposal Committee which led the process. Fred and Jim were senior staff (from the CEP and the CAW, respectively) who helped mobilize research, logistics, and other resources in the lengthy and careful process of developing a vision, and a plan, for a new union. This New Union Project ultimately involved hundreds of national and local leaders, delegates and stewards, activists and staff from across both founding unions, energized by a shared excitement about what this new union could accomplish.
The idea of forming a new union was about much more than just merging two great unions into a bigger, stronger whole. Motivated by both fear and hope, we recognized that we needed a new vision of trade unionism, not just a bigger union.
The New Union Project was launched shortly after Stephen Harper won majority government; he was moving quickly to attack the union movement with multiple punitive laws. In Ontario, then-Conservative leader Tim Hudak was campaigning openly to bring U.S. right-to-work laws to Canada. Other provincial governments also had the union movement in their crosshairs. Meanwhile, many of the critical industries where our members worked — from auto to forestry to media to transportation — were experiencing enormous crises, undermined by the greed and short-sightedness of employers, and lacking adequate policy and fiscal support from government. Parts of Canada's labour movement (including unions still tied to U.S. parents) were unable to genuinely reflect and mobilize the hopes and priorities of their members, and all workers. Perhaps most worrisome were signs of a gradual erosion of the core ideas of collective solidarity and mutual struggle that have always powered workers' movements around the world. If workers become cynical about the possibility of making progress through collective struggle, the dangers to our living standards and our democracy become all the more urgent.
In the face of all these threats, we recognized the Canadian labour movement had to improve its game, to successfully confront these challenges.
But we were also motivated by hope. We hoped that by rethinking what unions can and must do, and building a new union that was more democratic, inclusive, accountable, and effective, we could rise to these challenges, and find new ways of advancing the interests of all working people. We were excited about the possibilities of new ways of organizing workers, new ways of involving members in the activities of the union, new demands to put before employers and governments alike, new sources of activism and leadership.
After two years of careful consultations, and endorsements from conventions of both the CAW and the CEP, the New Union Project culminated in the decision to form Unifor. That decision came to fruition at our thrilling, unforgettable founding convention in 2013.
In the near-decade since that hopeful day, Unifor has accomplished so much. We have organized over 20,000 new members into our union, across a wide range of industries (including health, gaming, transportation, and others). We took on incredible fights against the odds — using strikes, occupations, boycotts, and more — and won most of them. We've nurtured a new generation of activists, leaders, and staff, and our union has become more diverse and representative of the Canadian working class. We also mobilized our members to change Canadian politics: playing a key role in defeating both Harper and Hudak, winning better labour laws and social policies federally and in several provinces, and proving that an independent, authentic union voice in politics is unbeatable.
Canadians did not know the name 'Unifor' when we started. But we quickly built a reputation to go along with that name. Unifor is a union for all workers, regardless of where they work. Unifor is a union that fights fearlessly for progress in our workplaces, our society, and our environment. Unifor is a union that is democratic and accountable to its members. Unifor is a union that holds the promise of a better future.
On the whole, the foundation and work of Unifor has been an enormous, undeniable success. We've won important gains for our members. We've helped re-energize the broader Canadian labour movement. We've strengthened our industries, and improved Canada's politics.
Now, however, we confront the disturbing and disappointing reality that our previous president betrayed the trust of his office, and jeopardized the reputation and future success of this union we all love. We express anger and disgust at the mis-use of that office for inexplicable personal gain. But we also recognize that this episode raises bigger questions about the need for our union to be more accountable, more collective in its leadership, and ultimately more democratic.
In forming Unifor, the teams that worked to develop our new constitution, our leadership structure, and our decision-making processes put top priority on the need for democratic participation and accountability. While the actions of our former president show those checks and balances were not sufficient, the fact that his actions were quickly exposed, investigated, and called to account confirm that Unifor's democratic commitment and practice is indeed strong. Financial misappropriation of this scale would not have been confronted so forcefully and publicly in many other organizations (whether business, governments, or unions). We express our thanks and support to the Secretary-Treasurer and National Executive Board of Unifor for undertaking these investigations and subsequent actions. These actions were necessary both to address this particular wrongdoing, and to make sure it never happens again.
There is no doubt that Unifor has been damaged by these events, and everyone who shared in the hope of our new union feels that injury. Now, with the upcoming national convention, we must work to heal those wounds, learn from past mistakes, and move forward to build the unified, fighting, democratic union we know Unifor must be.
We are unanimous that the work of resolving the current crisis, learning from it, and strengthening our structures and practices will be best led by Sister Lana Payne and her Forward Together team. There are several critical principles that were enshrined in the foundation of Unifor, that only Lana can credibly carry on. These include:
By leading the initial investigation of the former president's actions, against the wishes of those who preferred the issue to remain hidden, Lana demonstrated her commitment to accountability and democratic practice. The credibility she built through these actions will be essential for the difficult task of completing the investigations of past wrongdoing, and establishing better structures of audit, financial control, transparency, and collective leadership to prevent this type of abuse from occurring again.

The Forward Together platform pledges a thorough reworking of Unifor's structures of accountability, financial control, and collective leadership. This is essential to rebuild the damage that has been done in recent months. And only a team with proven commitment to those changes, based on the credibility of Lana's past actions in confronting the wrong-doing, can accomplish it.

Unifor is a bi-national union, with equal status and full autonomy for our Québec division. Our union will not survive without the complete participation and solidarity of our Québec members, and it is clear only Lana can assure that.

Lana has unmatched skills for communicating with our members, with the public, with the media, with employers, and with governments, and conveying honestly and passionately Unifor's values and goals. This communication ability will be vital in rebuilding the credibility and prestige that our union must now regain.

The Forward Together platform has placed central, proper emphasis on the need for us all to circle back to the founding principles of Unifor, looking beyond this crisis to fearlessly evaluate our achievements and our limitations. We agree with the platform that it is necessary to undertake a full, participatory evaluation of Unifor's first decade, and enact critical recommendations to ensure we get back on the path to fulfilling our vision. Only Forward Together has committed to the full spirit of democratic, activist innovation that inspired Unifor in the first place.
Unifor was formed at a time of great danger for Canada's unions, and Canadian workers. The formation of Unifor, with a vision of democratic, effective, inclusive, activist trade unionism, was a victory. We have a shared responsibility to continue that work. Because the dangers facing our movement today are different, but still great: including right-wing populists who would take away our rights to form a union if they could; financialized greed-frenzied employers who treat workers like disposable just-in-time inputs; and continuing crises of climate change, globalization, and public health that threaten our livelihoods and even our lives.
In short, Canadian workers need Unifor even more than they did when Unifor was formed. They need Unifor to be the very best union it can be. This requires us to honestly examine what went wrong in our leadership, establish new structures to hold future leaders to account, and get back to the hard work of organizing and mobilizing workers in struggle for their rights.
Lana Payne and the Forward Together team clearly offer the best chance for us to collectively reclaim and fulfil the dream that led us to form this great union.
---
Peter Kennedy is former Secretary-Treasurer of the CAW, former co-chair of the New Union Proposal Committee, founding Secretary-Treasurer of Unifor, and Chair of the Auto Sector Retirees' Health Care Trust.
Gaétan Ménard is former Secretary-Treasurer of the CEP, former co-chair of the New Union Proposal Committee, and Member of the Canada Industrial Relations Board.
Fred Wilson is former Assistant to the President of the CEP, former Director of Strategic Planning for Unifor, and author of A New Kind of Union: Unifor and the Birth of the Modern Canadian Union (James Lorimer & Co, 2019).
Jim Stanford is former Economist and Director of Economic, Social and Sectoral Policy for the CAW, former Director of Social and Economic Policy for Unifor, and Director of the Centre for Future Work.
---
Any Unifor members who would like to comment on or endorse this open letter, please write to: [email protected].
This article was originally published on Medium