Jennifer Murray for Atlantic Regional Director
By Lana Payne Campaign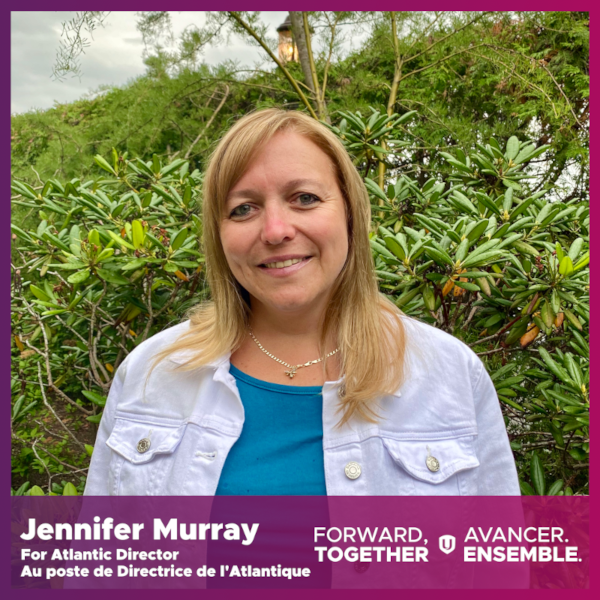 Jennifer Murray is Unifor's National Executive Board member for the rail sector, and Atlantic Regional Representative to Unifor Council 4000.
She began work with Via Rail in 1994 as a ticket agent at the Amherst train station in Amherst, Nova Scotia. She has served as Recording Secretary and Financial Secretary of Unifor Local 4005, and as a shop steward with VIA Rail's agreement #1.
She has proudly served as a railroader for 26 years working for VIA Rail since she graduated university with a Bachelor of Arts and a Bachelor of Education degree. After her studies, Jennifer began a teaching position in Mexico for 2 years. By that time, she was already a social activist, long before becoming a Union activist, and spent her time teaching children in Mexico, and tutoring them on a volunteer basis, as well as volunteering at a women's shelter.
Jennifer was first elected as Unifor Council 4000's Regional Representative of Local 4005 in 2015 and gained a rich experience in representing and fighting for workers. She has participated in multiple rounds of bargaining with groups falling under both the federal and provincial jurisdictions, as well as first contract bargaining.
Her activities and representation cover many sectors, including Rail (CN Rail and VIA Rail), Road Transport (Loomis / DHL), Marine (Bay Ferries), Warehouses (Loblaw Distribution Centers / CHEP), Hospitality (Halifax Convention Center), Education (Discovery Center), and more.
As the National Executive Board member for the rail sector, Jennifer has played an instrumental role in bringing VIA workers together around the Get Canada Back on Track campaign. She strongly believes in the need for national public passenger rail services in Canada, and has spent much of the last two years building a robust campaign to support VIA rail workers facing privatization.
Jennifer is passionate about the importance of the labour movement, and is proud of the amazing work our union does. As a former teacher who studied education, she sees the incredible value of building union education programs, in Port Elgin and in the regions, that provide moments of exchange and connection between Unifor members. The incredible work that happens at the Centre is one of the ways we build our union by igniting sparks and watching the flame grow. Jennifer is a strong advocate for mental health and ending the stigma around mental health issues and support.
To say the railway runs in Jennifer's blood would be an understatement. Her grandfather started working at CN Rail soon after immigrating to Canada and her father followed in his footsteps. Jennifer's father worked tirelessly for the labour movement through both an elected position with the CBRT&GW and now as a retired staff representative with the CAW. His passion for helping people was always his first motivation in the work that he did. Today, he continues to remind Jennifer, her brother Patrick, also a Unifor representative, and her sister Tracy, to never let fear drive their motivations and that there is no mountain too big to climb. Love, understanding and zero judgement will win the day.
At her home in New Brunswick, Jennifer enjoys spending time with family, especially her niece and nephews, reading, snowshoeing and spending time at her cottage making memories.
Jennifer is stepping up to run as Atlantic Regional Director because she believes in the rank-and-file power of this union, and wants to bring to life the Forward Together vision for a modern social union for everyone, with everyone.